Multi Asset
Multi Asset
Go global and focus on income
What a difference a few weeks can make. Since the U.S. elections, we have had to re-examine many familiar assumptions. The biggest change, from a multi-asset perspective, is that we have seen a clear trend reversal in sovereign yields that puts a question mark on potential diversification and return benefits moving forward. Bond prices fell and U.S. Treasury yields rose, reflecting market concerns on inflationary pressures and policy uncertainty. Equity markets took a rosier view on the prospects of policy-driven growth boosting corporate earnings. It remains to be seen who may be right in the longer term – which makes portfolio diversification all the more important.
Another interesting trend is that interest-rate volatility in bond markets has risen sharply, but has remained subdued in equity markets. Central-bank bond purchases have contained capital-market volatility globally in recent years, not just directly but also indirectly (e.g. for higher-yielding fixed-income segments). Especially given the low-interest-rate environment in Europe and political uncertainties ahead, it should remain critical to diversify both across asset classes and across regions globally.
The new realities require focusing on income
Fixed income faces headwinds from low and rising yields. We maintain our cautious stance towards sovereigns and have reduced allocations to investment grade. The remaining yield is less attractive but we expect ongoing diversification benefits, provided sovereign yields do not overshoot substantially. Strategically, we have a bias towards shorter duration, by actively managing interest-rate sensitivity, and continue to take risk in fixed-income credit (but to a lesser extent). We remain invested in high-yield (HY) and emerging-marketshard-currency debt from an income perspective.
Overall, the risk/reward profile for equities clearly seems to have become more favorable compared to fixed income. For now, we prefer to take more risks via equities and are increasing exposure to equities. However, we also have to acknowledge we are at the late-cycle stage in equities. Fiscal stimulus in the U.S. may extend this for another year or so. Still, we are likely to see only mid-single-digit returns in equities on average. This is why it is even more important to focus on the different components of total return, most notably income via coupons on fixed-income credit and dividends on the equity side. Following recent volatility, there are plenty of opportunities to build up positions. In our view, careful selection remains critical.
Within equities, we prefer the U.S. and Japan over Europe. Despite stabilizing commodity prices and the continued earnings recovery in selected emerging markets, they may also be exposed to further fall-out from Trump's victory. This is why we prefer developed markets for now.
Currencies, alternatives and active risk management
Currency movements are another critical consideration. We see the U.S. dollar trending higher against the euro, reaching parity by the end of 2017, and also expect it to gain ground against the Japanese yen. Alternative investments, particularly in certain infrastructure segments, are other key elements worth considering. Gold may struggle to make gains from its current price but could serve as a better diversifier than sovereigns going forward. This late in the cycle, active risk management should remain more critical than ever.
Volatility is up in bond markets, but not in equity markets
For now, concerns about increasing underlying policy uncertainty appear fairly limited.

Source: Bloomberg Finance L.P.; as of 11/23/16
Expected yields – and the risks involved
All assets carry risks, as historic drawdownsshow. Diversifying globally is key.
Sources: Bloomberg Finance L.P., Deutsche Asset Management Investment GmbH; as of 11/2016
next chapter
Allocation
Allocation
We favor equities over credit.
It remains critical to diversify both across asset classes and across regions globally
As we head into 2017, equities look likely to possibly offer better risk-reward characteristics than fixed income. Within equities, we favor Japan. U.S. equities likewise look well-positioned, given the potential of a looming fiscal stimulus lifting corporate earnings. Emerging marketshave been unsettled by the U.S. election results and may take a while yet to settle down. Within fixed income, we continue to prefer "carry" assets (i.e. those offering appreciable yields). We remain cautious on sovereigns and seek to reduce interest-rate sensitivity to mitigate the risk from rising yields. We also expect the U.S. dollar to strengthen against the Japanese yen and the euro. The environment for commodities remains challenging, not least due to the strong U.S. dollar. Gold may gain in attractiveness, however, because of its role as a potential diversifier.
The chart shows how we would currently design a balanced, euro-denominated portfolio for a European investor taking global exposure. This allocation may not be suitable for all investors. Alternatives are not suitable for all clients. Source: Multi Asset Group, Deutsche Asset Management Investment GmbH; as of 11/28/16
previous chapter
next chapter
Indicators
Indicators
Still an overhang of political uncertainty
Except for our risk indicator, the overall picture is rather positive.
The current market environment is characterized by positive as well as negative factors. This is reflected in the three multi-asset indicators. On the one hand, the fundamental macroeconomic data is solid, which is reflected by the macro indicator. In addition to encouraging global economic-growth data, the U.S. labor market stands out. The surprise indicator also presents a fairly reassuring picture, with mostly positive data being reported in all major regions. On the other hand, the risk indicator shows the uncertainty prevailing as a result of political events, in particular, the U.S. elections. For the most part, this indicator signaled a neutral risk environment since September, which then deteriorated in November and has just recently started to improve. Should political uncertainties soon disappear, the overall picture would turn distinctly positive, paving the way for an improvement in all three multi-asset indicators.
The macro indicator condenses a wide range of economic data, including consumer confidence, trade and employment numbers.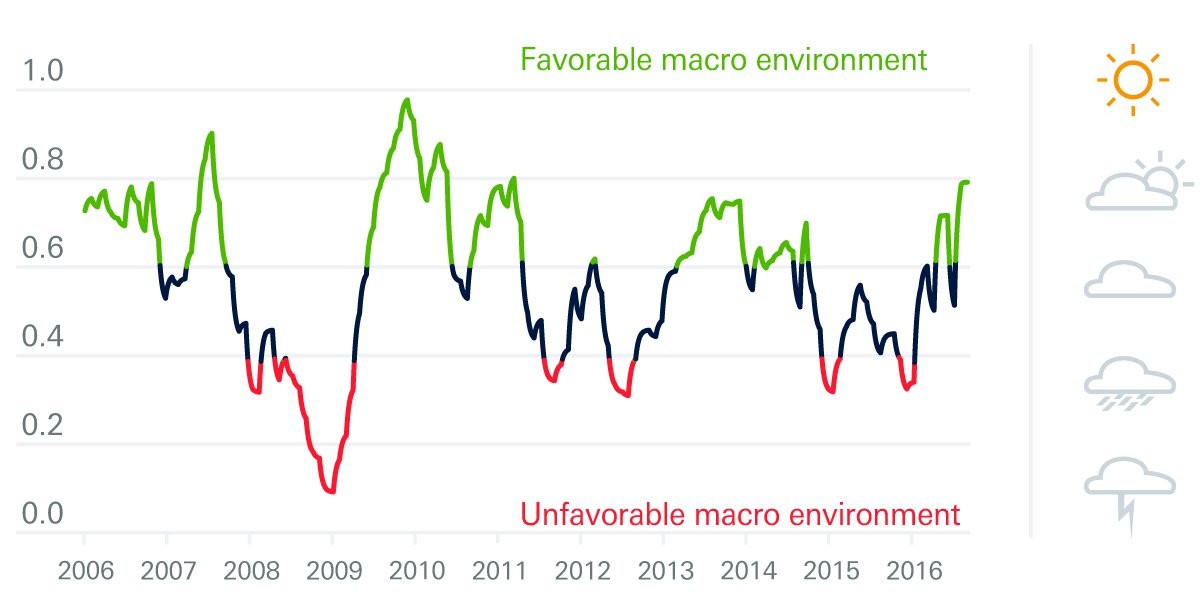 Source: Deutsche Asset Management Investment GmbH; as of 11/29/16
Our risk indicator depicts the risk environment in the markets.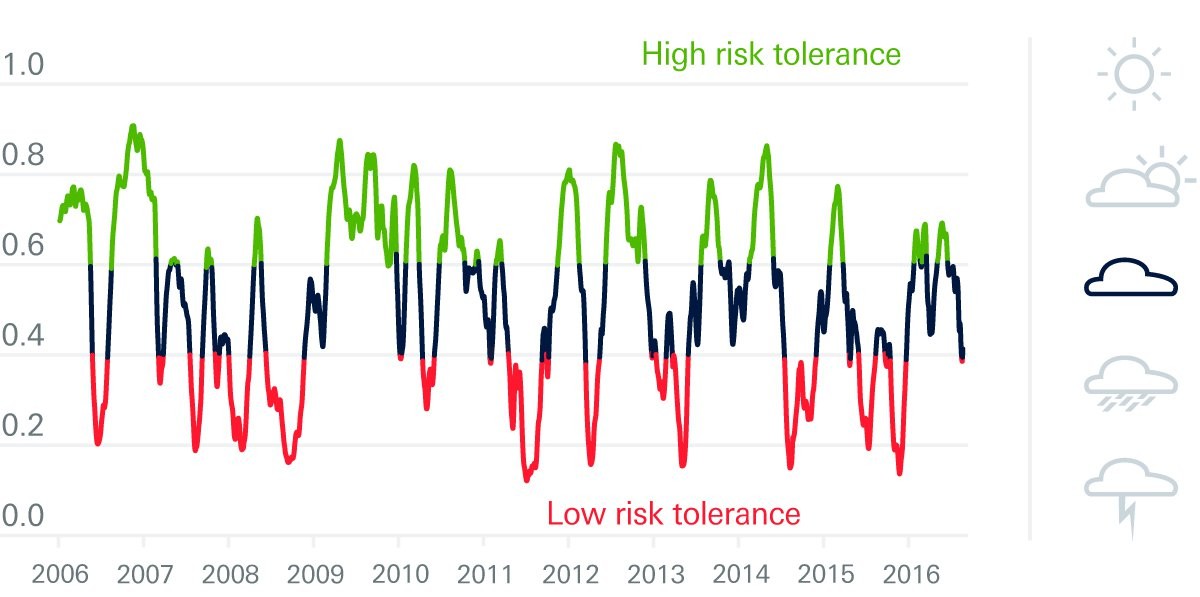 Source: Deutsche Asset Management Investment GmbH; as of 11/29/16
The surprise indicator tracks economic data relative to consensus expectations.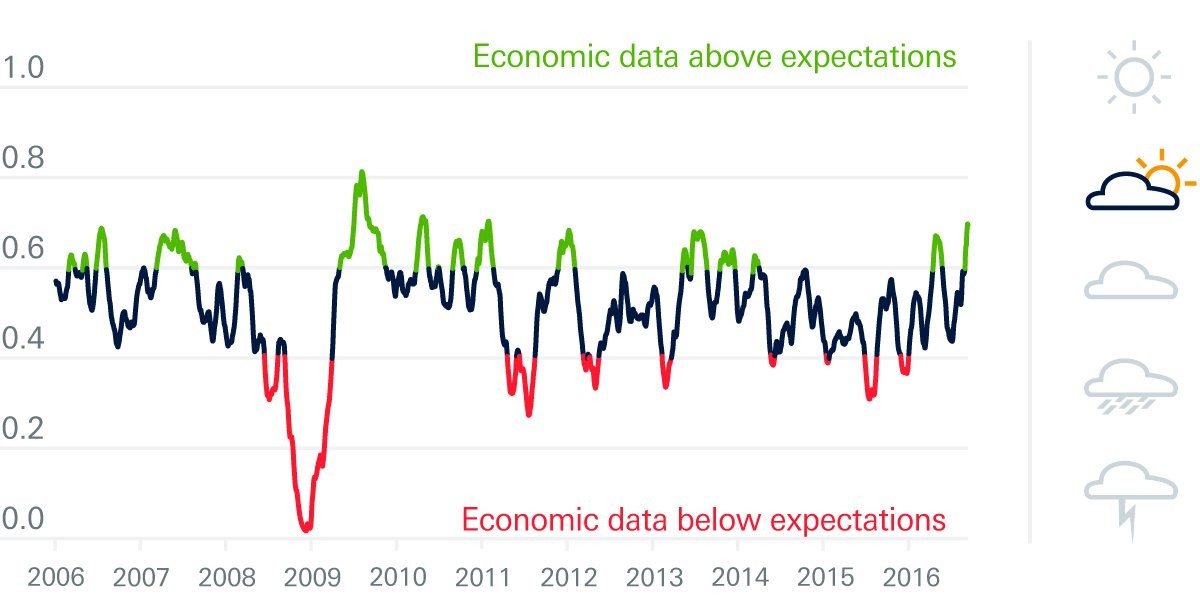 Source: Deutsche Asset Management Investment GmbH; as of 11/29/16
previous chapter