Multi Asset
Multi Asset
Make no mistake: these are difficult times when it comes to generating returns. We will live in a lower-growth world. As a result central banks are expected to keep liquidity support. Rates should stay lower for longer. There are plenty of tail risks, of course – from ailing banks in Europe to politics such as upcoming elections in the United States and elsewhere. Overall, however, the macroeconomic environment looks quite favorable, with just enough growth to support earnings and not so much growth as to warrant large increases in interest rates any time soon. Volatility, too, looks set to continue trending downwards, despite occasional event-driven spikes.
An era of return-free risk
As the incremental impact from central banks' support continues to fade, there is limited further scope for price rises on the back of further declines in interest rates. As a result, the balance between risks and rewards looks increasingly skewed to the downside for longer-duration bonds. Recent central-bank activism has given a whole new meaning to the term "risk-free rates". Cautious investors can no longer expect any "risk-free returns". Instead, we live in an era of "return-free risk". Supposedly low-risk government bonds offer low or negative yields in the short term – and plenty of downside in the longer term if and when interest rates go up.
Diversification has become more difficult. Of course, all asset classes are "expensive" by historical comparisons. As long as the current macro-economic environment continues to be stable, it is all about relative value. First and foremost, this means focusing on higher-yielding bonds, which offer carry (i.e. meaningful positive yields) and at least have the potential to benefit from further spread tightening. Similarly, we built up our position in emerging-marketsbonds.
From the perspective of European investors, currency considerations are also becoming increasingly important. Especially for U.S. Treasuries, this suggests reducing allocations, reflecting the rise in hedging costs against the U.S. dollar. Investment-grade bonds remain interesting overall, but we see more potential in the U.S. than in Europe, partly due to how far European rates have already fallen. Within Europe, we are focusing on riskier segments from a multi-asset perspective, namely euro high yield (where we used the most recent spread correction to further build up the position we already had). We have also added corporate hybrids as an additional segment offering the potential to benefit from the interesting rating-adjusted yield.
Overall, we have increased our risk utilization somewhat, still leaving us well positioned in case of equity-market weakness to tactically increase our positions.
The current role for equities and equity styles
Lately, equity investors have had to live with big swings around a very modest upward trend. Two ways to benefit from such an environment are tactical positioning on the one hand (i.e. buying on dips) and focusing on comparatively less volatile stocks on the other.
Within equities, we are a bit cautious on Europe and the U.S., and favor emerging markets. At this stage, though, the real value lies probably less in geographic allocations than in selecting the correct equity styles, which means choosing the right investment criteria. We continue to prefer income-generating dividend stocks and strategies designed to minimize volatility – in other words, assets with quite similar characteristics to the fixed-income categories noted earlier.
The same is true for other bond-like tangible assets. As part of a diversified portfolio, alternative investments are well worth a look, particularly infrastructure investments and select real-estate markets.
Volatility trending downwards
Volatility remains low by historic standards, with occasional strong spikes.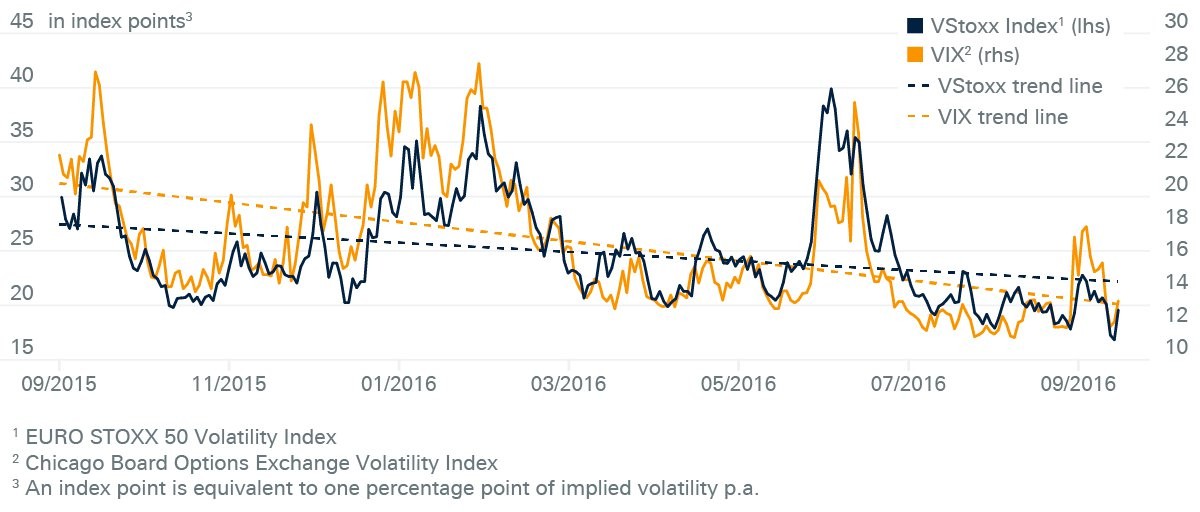 Source: Bloomberg Finance L.P.; as of 9/26/16
Higher-yielding stocks tended to outperform
Compared to the broader index stocks with higher dividend yields have performed rather well.
Source: Bloomberg Finance L.P.; as of 9/26/16
next chapter
Allocation
Allocation
Moving up the risk ladder – selectively
Where we see – some – value in a lower-growth world.
The environment remains favorable for assets offering carry (i.e. meaningful positive yields). On the fixed-income side, we tend to prefer riskier segments, notably euro high yield. In emerging markets, we continue to see opportunities both in fixed income and in equities, but careful selection remains critical in these segments. For equities overall, we are turning less negative. U.S. equities remain underweight. Conversely, we have further reduced our exposure to U.S. Treasuries, partly reflecting rising costs for currency hedging. We remain cautious on European sovereign bonds. The likelihood of new lows on sovereign yields looks limited in the current environment, while the medium-term risks have risen. We remain neutral on commodities, but see selective opportunities in alternatives (i.e. infrastructure and real estate).
The chart shows how we would currently design a balanced, euro-denominated portfolio for a European investor taking global exposure. This allocation may not be suitable for all investors. Alternatives are not suitable for all clients. Source: Multi Asset Group, Deutsche Asset Management Investment GmbH; as of 9/29/16
previous chapter
next chapter
Indicators
Indicators
Macro indicators are telling investors to be cautious, which should keep their risk tolerance low for now.
After the cautious optimism of the summer, the risks threatening the global financial system are once again starting to take center stage. Our macro indicator shows that after a gradual improvement in the global economic environment, much of the economic and sentiment data have deteriorated, especially in the United States. This calls for caution. Our surprise indicator confirms this slowdown. While the macroeconomic data in Asia and the Eurozone are broadly in line with analyst expectations, the United States is seeing a growing number of negative surprises. As a result, investors have moved towards a more defensive stance compared to the much friendlier environment in July and August. U.S. economic concerns, monetary-policy uncertainties, the upcoming U.S. elections and a European banking system suffering under a flat yield curve are all causes for caution. This is highlighted by our risk indicator, which is very sensitive to short-term changes in the capital markets. Taken together, these three indicators give us a thorough view not only of the underlying fundamentals, but also markets' atmospherics and the current levels of risk tolerance among investors.
Consumer confidence, trade figures, unemployment numbers: The macro indicator condenses a wide range of economic data.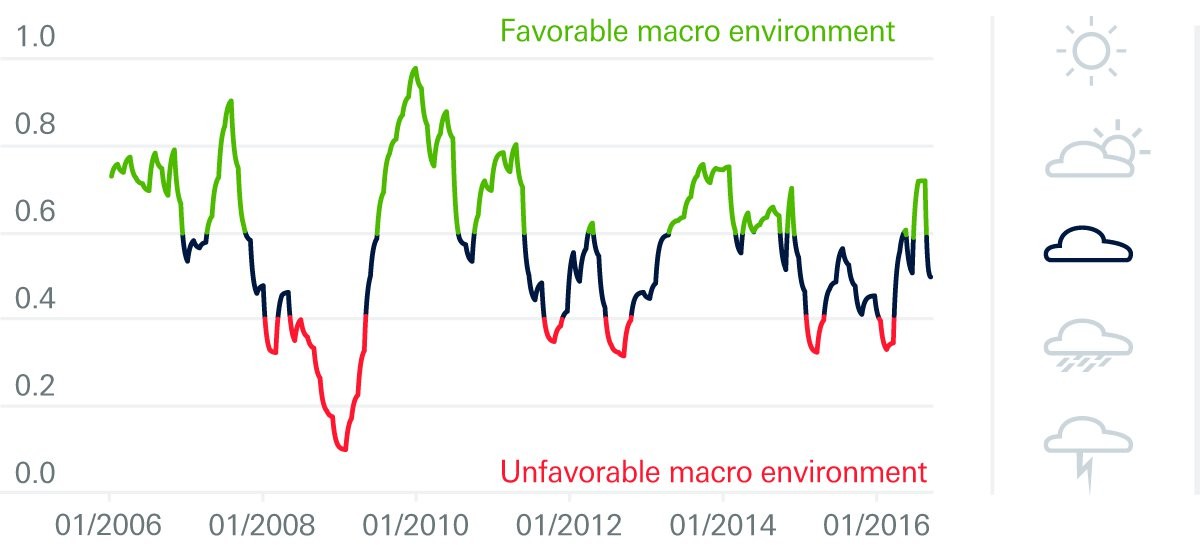 Source: Deutsche Asset Management Investment GmbH; as of 9/27/16
Our risk indicator reflects investors' current level of risk tolerance in the financial markets.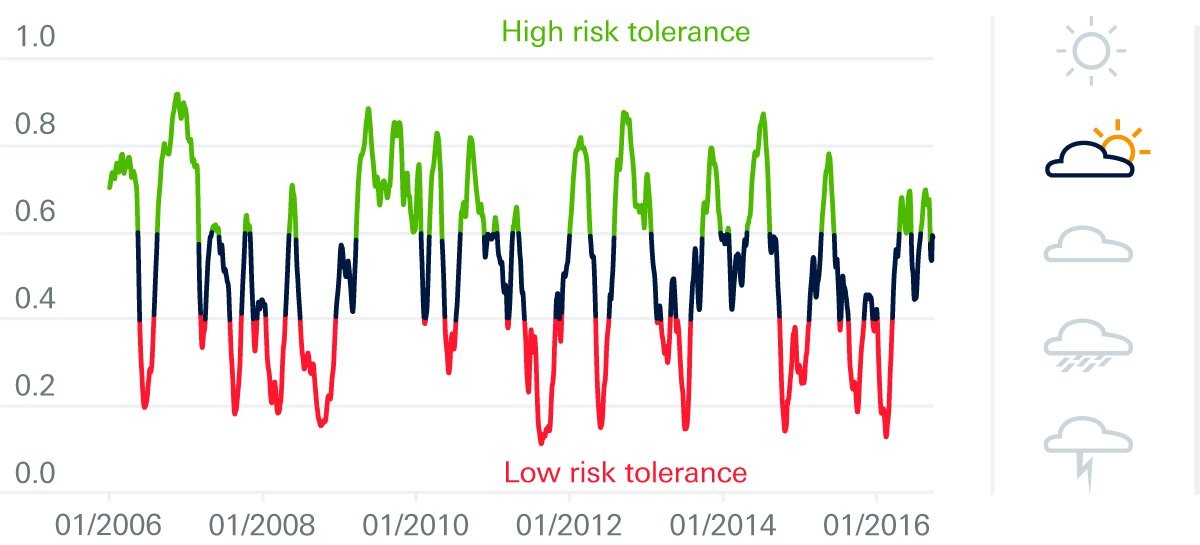 Source: Deutsche Asset Management Investment GmbH; as of 9/27/16
The surprise indicator tracks economic data relative to consensus expectations.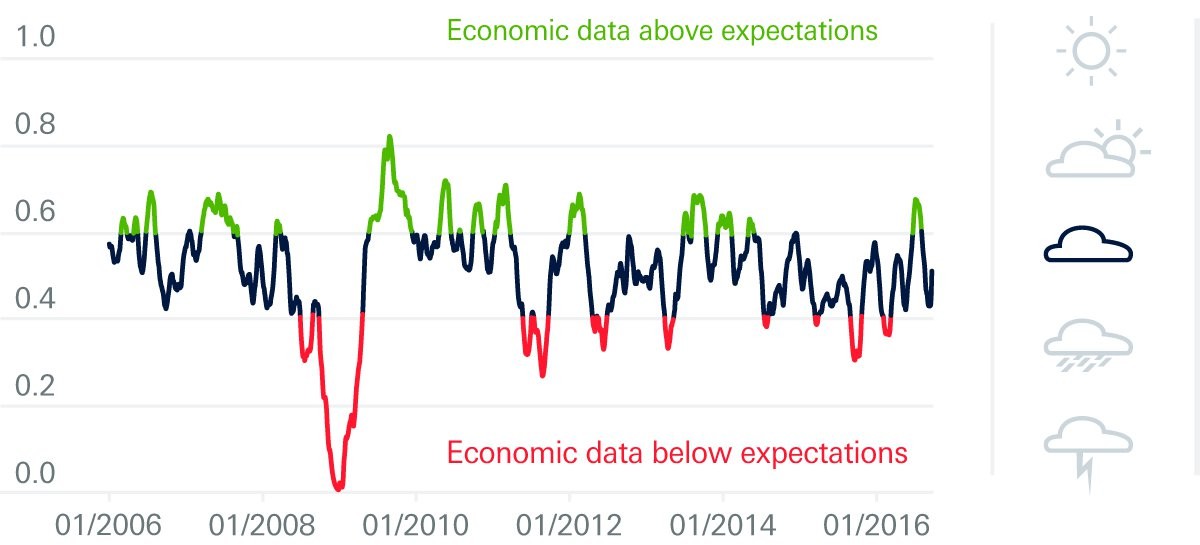 Source: Deutsche Asset Management Investment GmbH; as of 9/27/16
previous chapter