Multi-asset investors face an environment where growth remains stubbornly low and there are growing concerns about the long-term implications of very accommodative monetary policy. But, for the foreseeable future, we should live in a situation where core sovereign-bond yields are at record lows, corporate-credit yields are moving down and equities are at record highs. In short, we have an investment cycle where some asset-class price movements are out of sync with economic growth.
Lower effective returns are also accompanied by high levels of volatility. This is most simply illustrated by the classic "efficient-frontier" chart showing the highest rate of return for a given level of risk, or vice versa. As Figure 1 shows, this has moved downwards over time – in other words, to achieve a given return you may have to take on a much higher level of risk than previously. A simple hypothetical example makes the point even more strongly. In 2004 you could achieve a 4% return with a portfolio made up with 85% fixed income and only 15% of equities. Now you would have to allocate ~50% into equities to have a hope of approaching this level of return – and your expected volatility would have doubled.
Portfolio diversification has become very challenging in this cycle. The natural diversifiers, fixed-income sovereigns, are now zero-yield, negative-convexity assets. Inter-asset-class correlation has also increased substantially over the last few years and – as we know – tends to increase to one in larger risk-aversion events, as shown by Figure 2.
The risk-return relationship is changing
As a result, multi-asset investors may need to recalibrate their strategy. Over the last 5-10 years, strategic asset allocation might have accounted for 80% or more of a portfolio's performance. This is no longer the case. Effective tactical asset allocation, individual security selection and risk management may now account for 50% or more of performance.
In this new, active, multi-asset-management world, key concepts include contrarian trading, risk premia or style investing and smart implementation, i.e. selection. The way in which they are implemented and their relative importance changes over time.
Our current approach can be characterized as follows. With the largest contribution to overall portfolio risk coming from equities taking slightly less strategic risk than usual may be warranted, both to allow a portfolio to better cope with and also to provide a sufficient risk budget to buy into larger sell-offs. Across a strategic base portfolio, a "carry-and-income" strategy can offer the ability to add tactically when market dislocations occur.
Diversification across styles can add value
Within the equities exposure, limited expected upside to index targets, together with high expected volatility, suggests focusing on getting the right equity style (i.e. investing criteria). Income-generating dividend stocks and strategies designed to minimize volatility/variance may be important considerations. Figure 3 shows the longer-term risk premia associated with different equity styles.
Fixed-income "carry" assets (i.e. those offering appreciable yield) look set to be more interesting than equities for the next couple of months. U.S. investment grade, euro high yield and emerging-market (EM) hard-currency debt may be preferred considerations.
This is an environment that should require global diversification which includes U.S. exposure – and not to forget currency exposure that is actively managed for risk – and potential return.
A new cycle: Lower returns for the same level of risk1
The efficient frontier is likely to be lower going forward. Investors need to adjust their risk budgets or their strategic allocation.

Sources: Morgan Stanley Research, Bloomberg Finance L.P.; as of 11/2015
Diversification will become more challenging
After predominantly negative bond-equity correlations over the past decade, we may be entering a new phase of positive correlation.
Sources: Thomson Reuters Datastream, Global Financial Data, Robert Shiller, Goldman Sachs Global Investment Research; as of 12/2015
Strong performance and dispersion among equity style factors2
Minimum-Volatility and Momentum strategies have outperformed Value and Small Caps this year, all of which did better than the MSCI World Index.

Source: Bloomberg Finance L.P.; as of 7/15/16
Allocation: Credit over equities, for now
Regional equity preferences reflect political and economic concerns
We continue to believe that fixed-income corporate credit may offer better risk-return characteristics than equities on a three-month horizon. That's why we feel comfortable to carry an underweight in equities overall at this point in time. With much of the continuing political and economic uncertainty focused on Europe, we have an underweight in European equities, but continue to see opportunities Japan and acknowledge the continuing momentum in Emerging Markets. Our allocation to U.S. and Asia-ex-Japan equities remains neutral. Our overweight to fixed income overall is mainly via investment grade and high yield. We are neutral on commodities and underweight Alternatives at the moment. We continue to think that the U.S. dollar may strengthen, having an overweight here but an underweight on both the euro and the yen.
Looks good – on the surface
Development of macro indicators suggests scope for cautious optimism but uncertainties persist.
Currently, all three of our multi-asset indicators are relatively encouraging. This reflects, to a great extent, the slow but steady improvement in the macroeconomic environment as well as market optimism that central banks will provide further liquidity, if needed. The surprise indicator has been positive since end of May, initially driven by very positive surprises out of the Eurozone. Recent data has also beaten expectations in Asia and the U.S. The generally positive development in the macro indicator since March owes much to improving trade data, global purchasing-manager indices, firm labor-market data and a rise in many commodity prices. This shows a broad-based improvement. Our third measure is the risk indicator, which has recently turned positive after a very volatile period since the beginning of the year. This reflects the changing risk sentiment.
Overall, ample liquidity and central-bank support is driving financial markets. Our indicators, too, are partially driven by monetary policy. However, they also provide a very valuable fundamental cross-check to assess markets. In that sense, they should be seen as complementary to other tools for analyzing financial markets.
The macro indicator condenses a wide range of economic data, including consumer confidence, trade figures and employment numbers.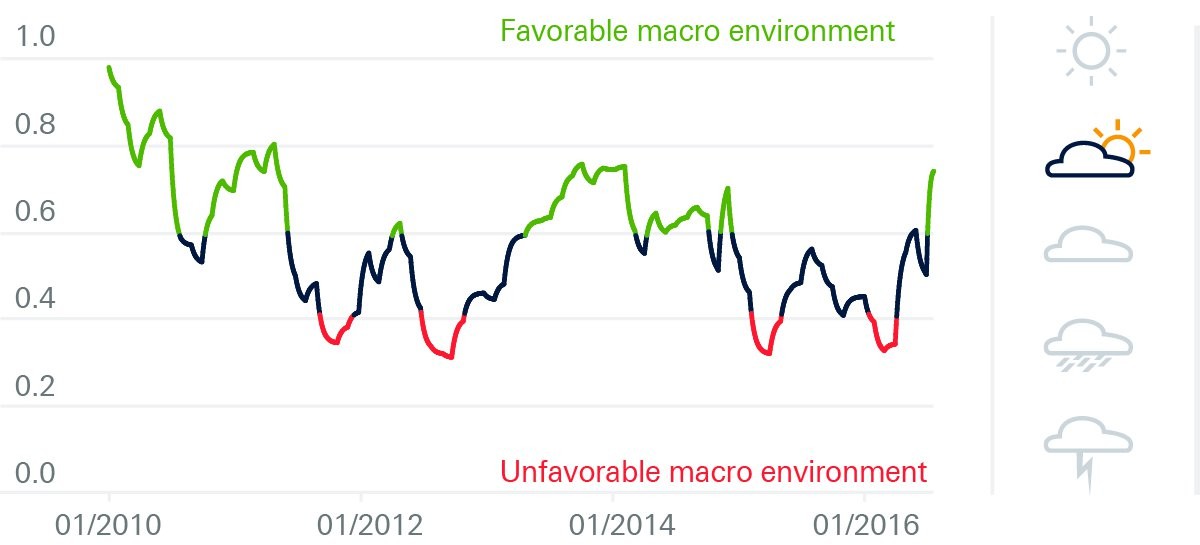 Source: Deutsche Asset Management Investment GmbH; as of 7/22/16
Our risk indicator depicts the current risk environment in the markets.
Source: Deutsche Asset Management Investment GmbH; as of 7/22/16
The surprise indicator tracks economic data relative to consensus expectations.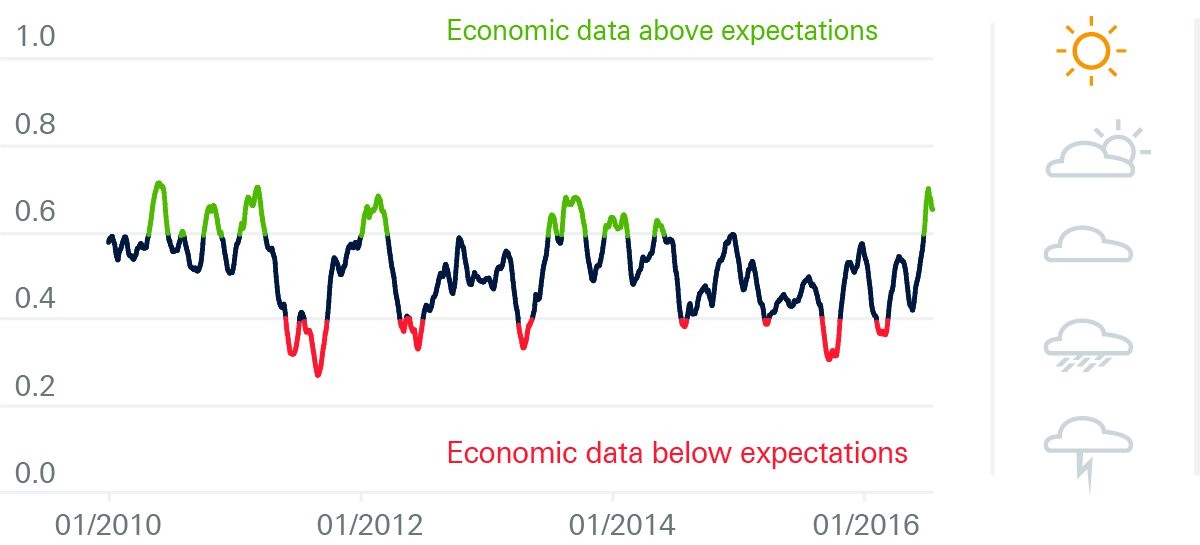 Source: Deutsche Asset Management Investment GmbH; as of 7/22/16