The shifting progress on the trade talks between China and the United States have dominated the headlines over the last week. Prior to this past week, signals from both countries were leading the market to price in a resolution to the trade talks and the S&P 500 reached almost 2950, posting a year-to-date return of roughly 17% as of May 3. With the deterioration more recently, the S&P 500 traded lower by almost 4% dipping to about 2830. The modest risk-off environment also caused the 10-year Treasuries to rally with yields declining by 15 basis points from 2.6% to 2.45% from the end of April. While volatility spiked from 13 to 18 as reflected in the CBOE Volatility Index (Vix), it nevertheless remained well off the level seen towards the end of 2018 when it reached 36.
Despite the shifting political sands, the real economy still remains resilient. Initial jobless claims remain in check coming in at 228,000 versus the prior reading of 230,000. On May 3, it was also reported that job growth came in better than expected at 263,000 new jobs versus expectations of 190,000. Pending home sales month-over-month came in at 3.8%, well ahead of expectations of 1.5%. Consumer confidence as reflected by the Conference Board also came in slightly better than expected at 129.2 versus expectations of 126.8. Similarly, the U.S. Purchasing Manager's Index (PMI) came in slightly better than expected at 52.6 (versus 52.4). The index, standing at a level above 50, continues to point towards an expanding economy in the United States. Inflation risks also appear to be well contained with year-on-year increase of 2% in the consumer price index (CPI) versus expectations of 2.0%.
Looking ahead, we are not expecting a quick resolution on trade as certain items which the United States is requesting on matters such as intellectual property rights and subsidies for state-owned enterprises (SOEs) will require new legislation in China. Thus, the trade discussions could be prolonged into the summer months. Against this backdrop, we see little near-term impetus for a resurgence in growth in the emerging markets (EM) beyond the stimulus efforts already underway in China. Further, with uncertainty on trade combined with a deceleration in inflation and slightly higher risk in the market, we anticipate the 10-year Treasury yield to remain range bound. Finally, while we continue to expect a deceleration in earnings growth, the underpinnings of the economy remain intact.
As the markets continued to rise through April, we reduced portfolio risk by selling equities into market strength. Companies were reporting better-than-expected first quarter earnings, but the market seemed to have already priced in a trade war resolution, with little room left for potential positive surprises. Anticipating a sideways move in equity markets and finding less conviction in spread levels within fixed income to add to any exposure, we trimmed our equity overweight and shifted into cash. The implementation of tariffs and the uncertainty regarding the trade deal during the first weekend in May prompted us to trim our equity weight even more, leaving our allocation to equities slightly below neutral. We remain underweight in fixed income and slightly underweight alternatives.
Within equities, our preferences in developed markets remain in U.S. large caps and to a lesser degree Japan. Supported by an economy that is growing faster than consensus forecasts, over three quarters of the companies in the United States reported first-quarter earnings that have beaten market estimates. We closed our overweight in Japan during the course of the month and went to a neutral positioning. We still see decent domestic demand and expect the Japanese market to keep pace with global equities. We remain underweight in European equities as we believe more near-term headwinds to growth are in store for the region. Although earnings have been surprisingly resilient in Europe, we do not anticipate a change in market sentiment given the macro risks, such as Brexit, and softer tone in consumer data. Our cut to equities in May was focused on our pronounced EM exposure, as we found this region to be the biggest risk in the portfolio and the highest beta lever amidst the trade tensions. However, as we do anticipated a trade war resolution in the medium term, we maintain an allocation to EM Asia and retain a slight overweight to the overall EM equity exposure.
Although our allocation to fixed income had stayed stable through the course of April, we redeployed the cash generated from the May risk reduction to fixed income. We invested the allocation into Treasuries in addition to shifting our Treasury inflation-protected securities position back to nominal. We have not increases allocation to credit, as the current spread levels provide less attractive entry levels in our view. Our preference to be higher in quality within credit – favoring investment grade to high yield, for example – reflects our overall risk stance that has become more cautious compared to the beginning of the year. Although the broad refinancing wave has dissipated, we anticipate a slew of seasonal supply in mortgage-backed securities (MBS) and continue our underweight in the sector. We maintain our overweight in EM sovereigns as valuations and fundamentals remain relatively solid, with market supply anticipated to taper off the rest of the year.
Finally, our alternative exposure remains unchanged. Real Estate Investment Trusts (REITs) and infrastructure continue to be our core allocations, with an underweight position in commodities.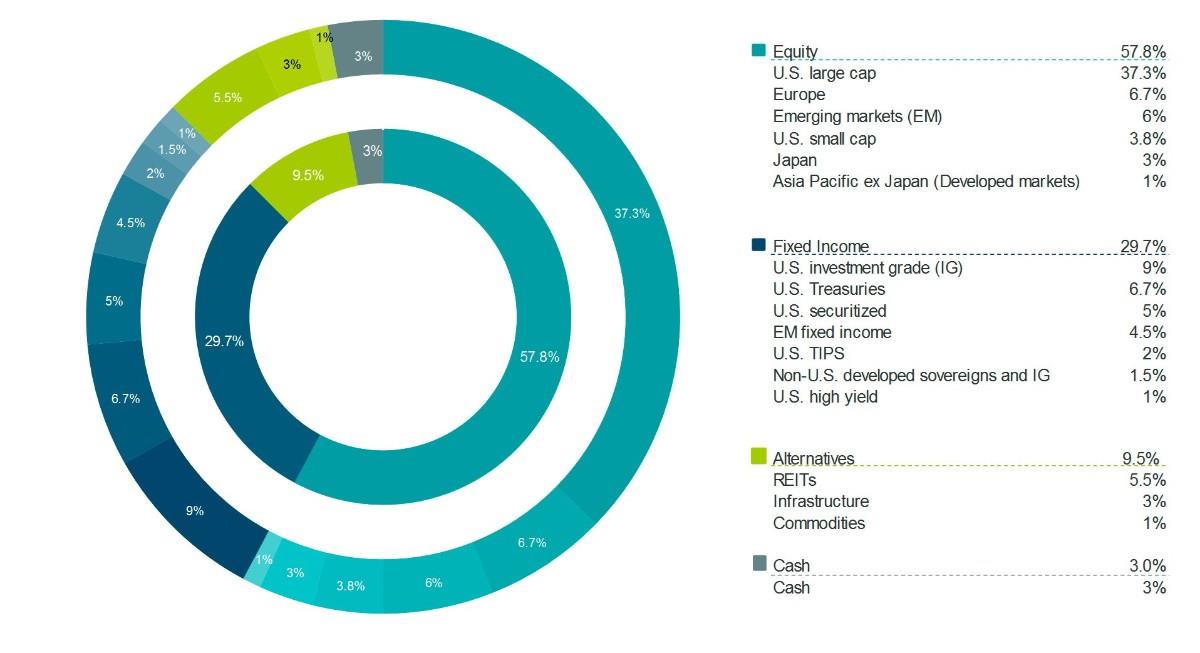 Source: DWS Investment Management Americas Inc. as of 5/10/19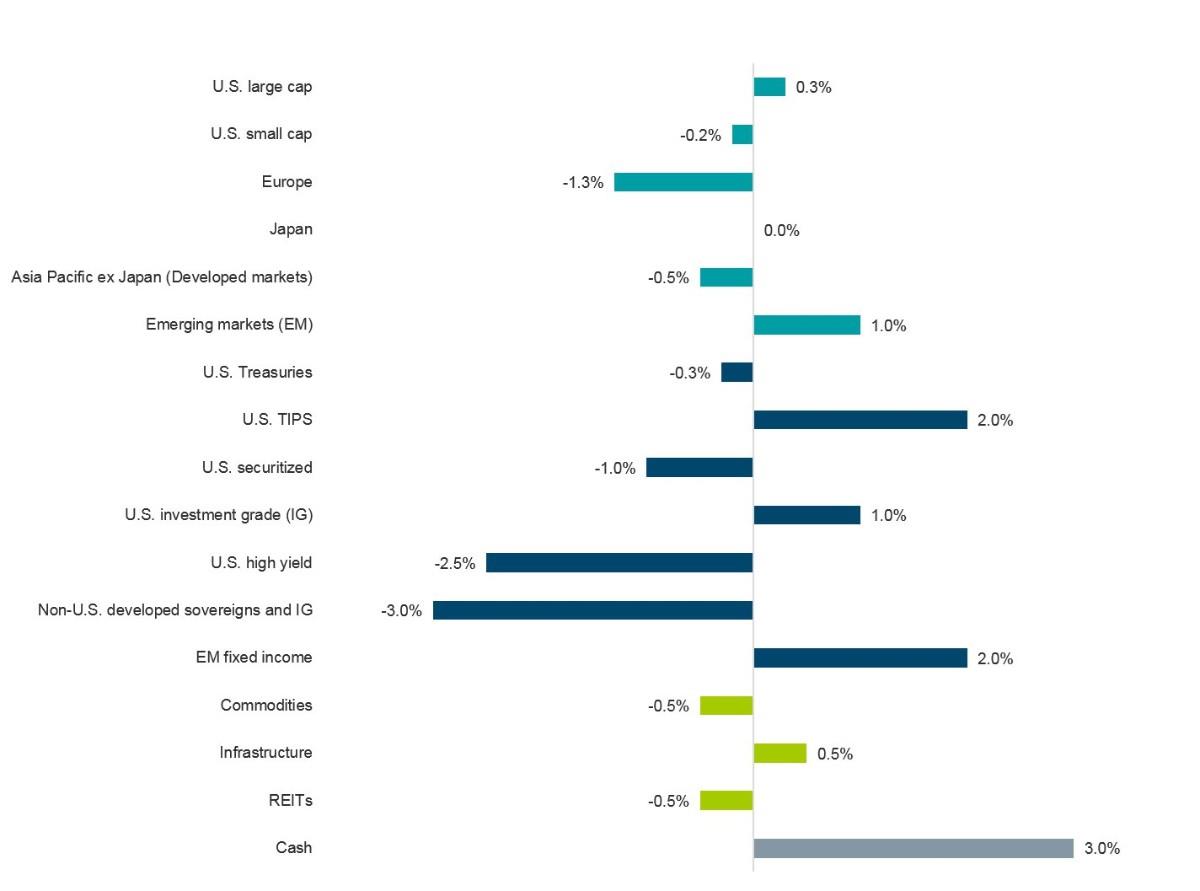 Source: DWS Investment Management Americas Inc. as of 5/10/19