Four pillars which can drive an economy are monetary policy, fiscal policy (tax and spending), trade policies and regulations. As seen with first quarter growth of 3.1%, over the course of the last year, each pillar stood firmly and supported economic growth and the investment markets. Recently, two of the pillars, trade and regulation, have taken an ominous lean. The combatants in the U.S.-China trade war have taken a more entrenched position on numerous fronts with the United States blacklisting Huawei and China responding by threatening to blacklist certain U.S. firms and to restrict exports of rare-earth minerals. Exacerbating investor anxiety further, the United States is threatening to impose tariffs on Mexico to mitigate the flow of undocumented migrants. In terms of regulation, the House Judiciary Committee announced an anti-trust probe of unspecified technology companies promising a review of the market power wielded by giant tech platforms.
Each of these items has already taken its toll on the markets. The S&P 500 sold off 6.4% in May while the 10-year U.S. Treasury yield fell from 2.5% to 2.1%, leading to a slightly inverted yield curve. Further, with economic growth expected to decelerate and the supply of oil increasing, crude oil prices, in particular West Texas Intermediate (WTI) fell more than 10% in May, while the dollar (USD) weakened slightly against the euro. Mindful of the escalating trade dispute and rising uncertainty in April and May, we de-risked the portfolio in multiple steps by reducing our equity weight and increasing duration. As the month of May unfolded and risky assets sold off, our relative performance improved as a result.
More recently, the U.S. Federal Reserve (Fed) calmed the markets by acknowledging the impact that trade issues could have on the economy. However, despite what may be priced into the markets, we are not expectingFed rate cuts as soon as the market may be anticipating. Indeed, we interpret the comment by the Dallas Fed President that "in the next five, six weeks, a number of them could be alleviated[1]" as implying that the Fed is unlikely to react to the trade issues any time soon. Further still, we see the entrenched views on trade carrying through into the summer.
On the economic front, we see stable trends on certain areas and decelerating trends in others. We continue to see positive trends in employment, consumption and housing, but manufacturing, capacity utilization and durable goods orders are either decelerating or declining. As we head into the summer months, we believe these decelerating trends may become more pronounced. Likewise, with oil prices 10% lower than a year ago when they were rising, we believe inflation is likely to decelerate. We continue to support the view that earnings growth will remain positive, although it too is expected to trend lower. That said, price-to-earnings ratios seem reasonable on a next-twelve-months basis, albeit with limited upside in the short run absent a resolution on trade. Finally, as long as there is no reversal in the labor markets, we expect little change in monetary policy.
Against this uncertain backdrop, we continued to de-risk the portfolio by reducing equity beta and bringing the portfolio's underweight in equities to almost 5%. We believe fixed income and alternatives deliver better risk-adjusted returns in the short-term until there is a clearer path forward on the trade disputes, but we are concerned that the Treasuries may have been over-bought, particularly during the last few trading days in May when yields fell precipitously. We retain a cash allocation in order to take advantage of any market opportunities that may open up.
Our reduction in equity weight has been largely broad based and conducted throughout the month. Our most recent cut, however, was specifically focused in higher beta pockets, such as U.S. small cap and European equities. We have kept our small overweight to emerging-market equities so that we are positioned to participate in potential market up-swings in the event there is a surprise resolution on the trade front. The allocations within the fixed-income portion of the portfolio has stayed largely stable month-over-month. Although we had tactically increased allocation to Treasuries as well as USD duration throughout the month of May, we have now moved back to a neutral positioning. Given the strong and rapid rally in rates, we have taken profit and would prefer to wait for better entry points. We have retained an allocation to Treasury inflation-protected securities (TIPS) as tariffs could induce inflationary pressures, and we continue to prefer investment grade over high yield in the credit space.
We redeployed the cash generated from the most recent equity reduction into alternatives, particularly into bond substitutes such as infrastructure and Real Estate Investment Trusts (REITs). We believe the bond substitutes provide the portfolio with a defensive cover while acting as a hedge against our equity underweight in the event of a surprise risk rally. We also increased our allocation to commodities by a small amount. Although we see limited upside potential in broad commodities, we see pockets of opportunities within the asset class, specifically in the agricultural sector.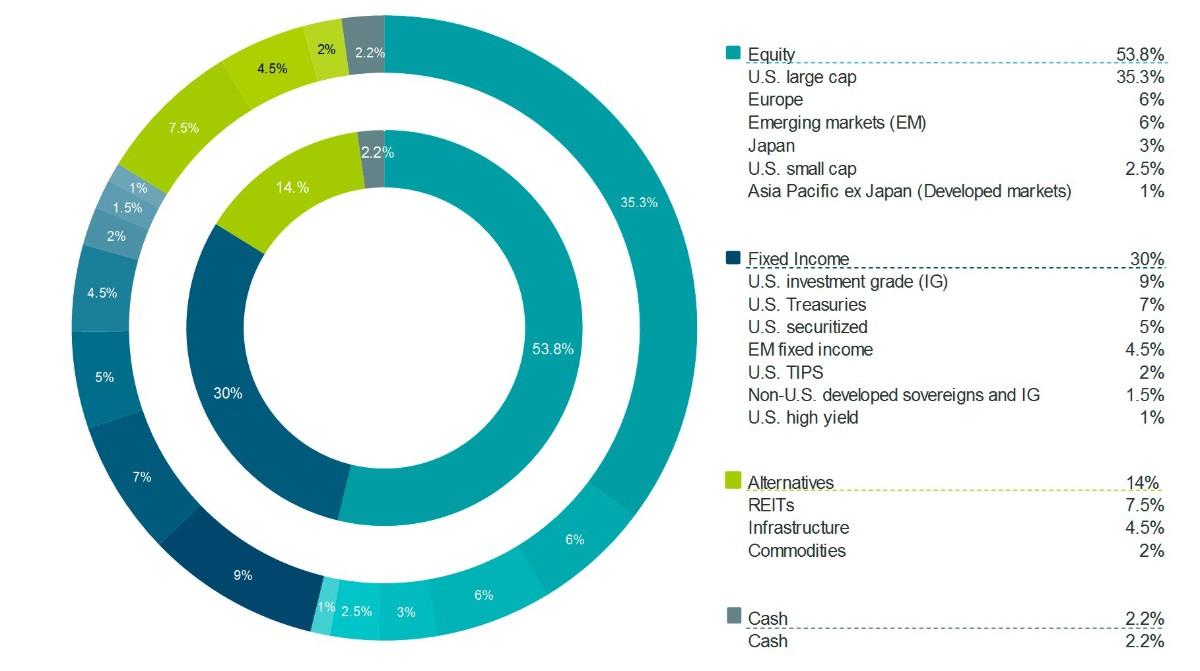 Source: DWS Investment Management Americas Inc. as of 6/5/19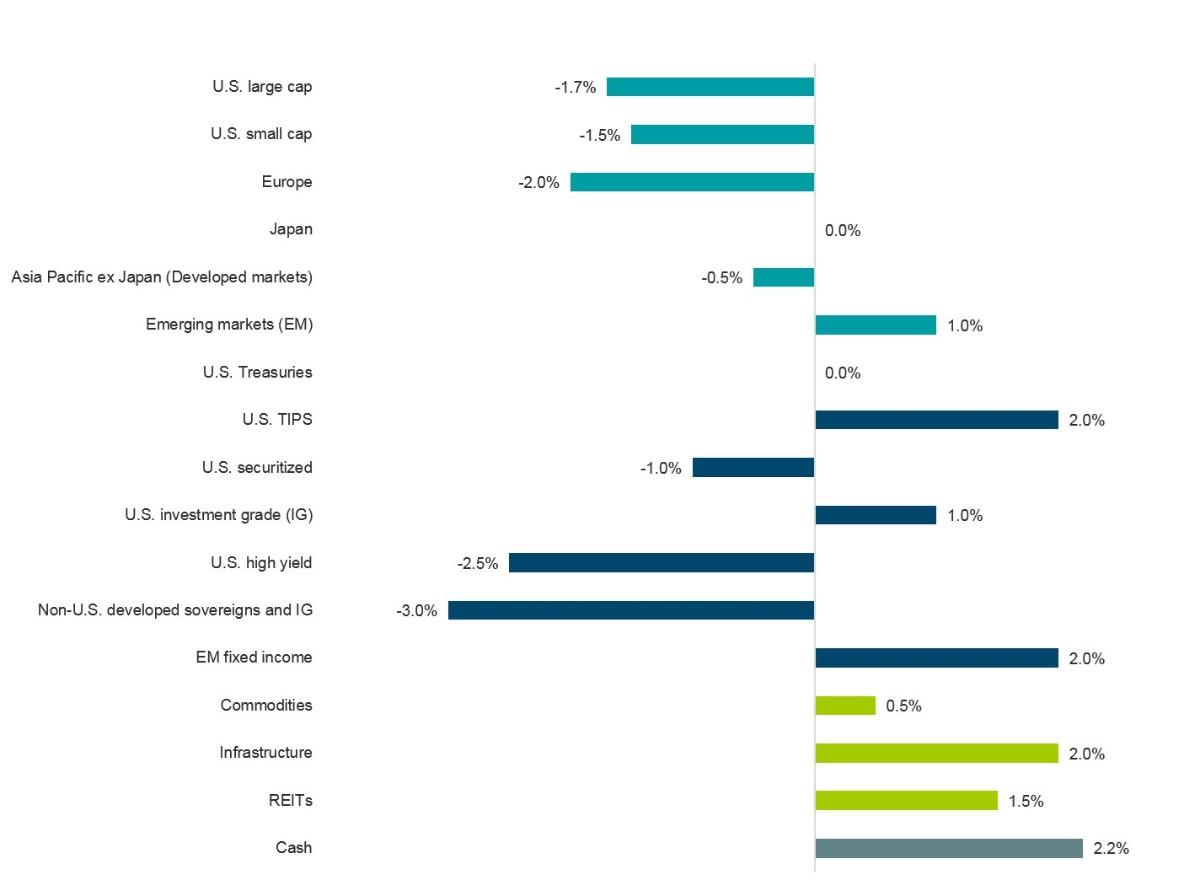 Source: DWS Investment Management Americas Inc. as of 6/5/19
1. Source: https://www.wsj.com/articles/dallas-fed-president-wants-to-see-if-trade-tensions-ease-before-considering-rate-cut-11559680430 as of 6/4/2019