The much anticipated G20 summit ended without bringing clarity to the trade dispute between the United States and China. The two sides agreed to refrain from imposing new tariffs and to continue the negotiations. While no plan was put forward detailing how and when the tariffs already in effect will be lifted, the markets welcomed a restart to negotiations.
Still, another trade dispute flared up recently between Japan and South Korea. The relationship turned sour when the Korean high court ordered Nippon Steel & Sumitomo Metal Corp. to pay compensation to Korean forced laborers during the World War II era. In retaliation Japan has imposed export restrictions on materials critical to Korean semiconductor manufacturers. While it is unclear if the dispute will escalate and have real impacts, it is another example of international trade being used as a weapon for political purposes.
The manufacturing sector is arguably bearing the brunt of trade disputes, whether those are between the United States and China, Japan and Korea or political conflicts like Brexit in Europe. For the most part, the Purchasing Managers Indices (PMIs) are decelerating to below 50 as evidenced by the JPMorgan Global Manufacturing PMI[1], which dipped below 50 at the end of May, signaling a contraction in manufacturing output. While the United States hovers in expansionary territory, Germany has dipped to 44.3, the United Kingdom to 49.4 and Japan to 49.8. In contrast, and on a much more positive note, the Service PMIs remain in expansionary territory. In the Eurozone, the Services PMI actually increased slightly from 52.8 to 52.9, while the U.S. decelerated slightly to 50.9 and Japan held steady at 51.7.
Furthermore, over the last few months, inflation expectations in the United States have trended lower. At the end of April, the U.S. Federal Reserve's (Fed's) five-year forward breakeven inflation rate was 2.02%. Following the anxiety over the trade war and potential implications to growth, inflation expectations fell and currently sit at 1.77%. As of July 12, the consumer price index (CPI) ex-food and energy was 2.1%. As we peer into the balance of the year, we expect inflation will likely be lower and expect limited risk of it exceeding 1.8%. This should provide some maneuvering room for the Fed. Shelter costs and housing continue to push inflation higher, but other components such as transportation and energy have pushed inflation lower. Furthermore, with the European Central Bank (ECB) announcing an arguably more dovish stance on monetary policy than the Fed, the U.S. dollar (USD) strengthened slightly. A stronger USD can serve to reduce import-cost inflation.
One area of inflation risk could stem from wage growth. Overall, labor-market trends in the United States are positive. As of July 5, while the U.S. unemployment rate rose slightly from 3.6% to 3.7%, the labor force participation rate also increased slightly from 62.8% to 62.9%. In turn, nonfarm payrolls increased by 224,000 persons, which was well ahead of expectations. Further, wage growth was also solid at 3.1%. At this level, there could be some concerns over inflation if higher wages led to an acceleration in personal consumption. However, as reported by the Bureau of Economic Analysis (BEA) the personal savings rate remained high at 6.1% at the end of May. Furthermore, higher wages do not seem to be eroding corporate profits. As reported by the Bureau of Labor Statistics (BLS), labor productivity (as measured by real output per hour) stood at 3.4% at the end of the first quarter of 2019. Inflation risks internationally also appear benign. In the Eurozone, CPI core inflation as of June 28 stood at 1.1%, while in Japan, various inflation measures were 1% or lower.
Markets have rallied in June based on dovish statements from central banks combined with a positive shift in sentiment in international relations and a benign inflation outlook. Over the last month, credit spreads tightened with Barclays US Corporate High Yield Index[2] narrowing from 433 basis points (bps) to 373 bps as of July 12. In addition, the S&P 500 price-to-earnings (P/E) ratio for the next twelve months increased from 16.5 to 18.1, while the dividend yield on the S&P 500 dipped from 2.11% to 1.94%.
Despite these positive trends, we expect some volatility in the equity markets through the summer. Given the hopeful market expectations, we think there is potential for disappointment as earnings growth continues to decelerate. As the new earnings season gets under way in earnest, we are likely to see signs of corporate earnings coming under pressure. Already, a chemicals giant in Germany warned of a possible 30% cut in its profit forecast citing slowing economies and the impact of the U.S.-China trade war. Though investors appear to have priced in continued support by central banks, it is unclear how much of an additional boost rate cuts can give equity markets. In addition to the trade disputes, we count elections in Europe, Brexit and negotiations on the U.S. debt ceiling as potential risks that could lift volatility from the currently depressed levels. We therefore maintain our cautious outlook and continue to underweight equities. Within equities, we think U.S. large cap and emerging Asia stocks offer the best relative opportunities.
We are neutral on fixed income as a whole, but maintain sizable tactical tilts across the sectors. With a number of central banks sending out dovish signals, we think that rates are likely to stay lower for longer. In the near-term, however, there is a risk that markets price in more aggressive moves by policymakers than what they end up delivering. We continue our neutral stance toward U.S. Treasuries and underweight position in non-U.S. developed sovereign bonds. We hold a positive view on U.S. investment-grade bonds and have recently added to this position. Investment-grade bonds are trading at a reasonable valuation and we think the spreads could tighten in the near-term as a confluence of technical factors including lower-than-normal new issuance and high inflows from yield-chasing investors dominate the market.
With lingering uncertainties regarding equities, we continue to find refuge in alternatives, particularly in bond substitutes like infrastructure and Real Estate Investment Trusts (REITs). We are relying on them to provide the portfolio with a defensive cover while acting as a hedge against our equity underweight in the event of a surprise risk rally. We also maintain our small overweight in commodities.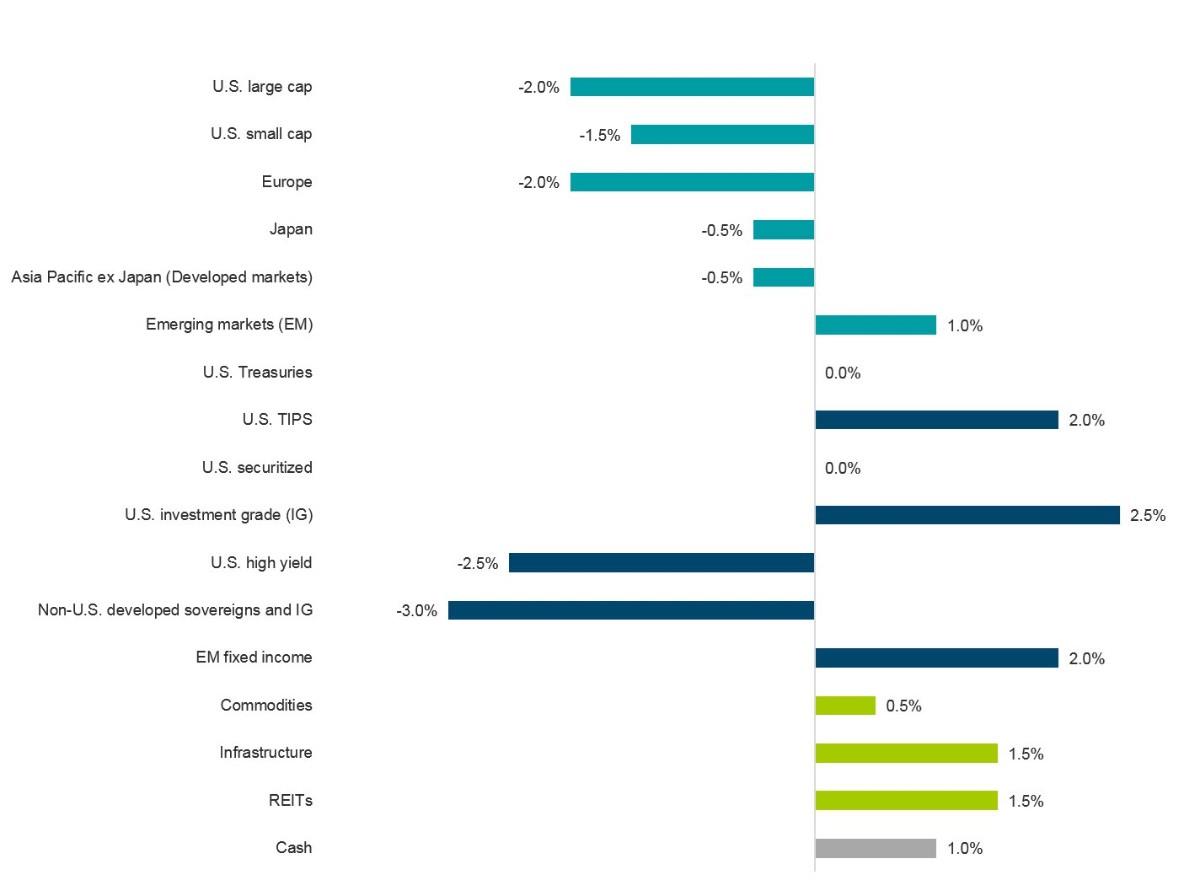 Allocations are subject to change.
Source: DWS Investment Management Americas Inc. as of 7/16/19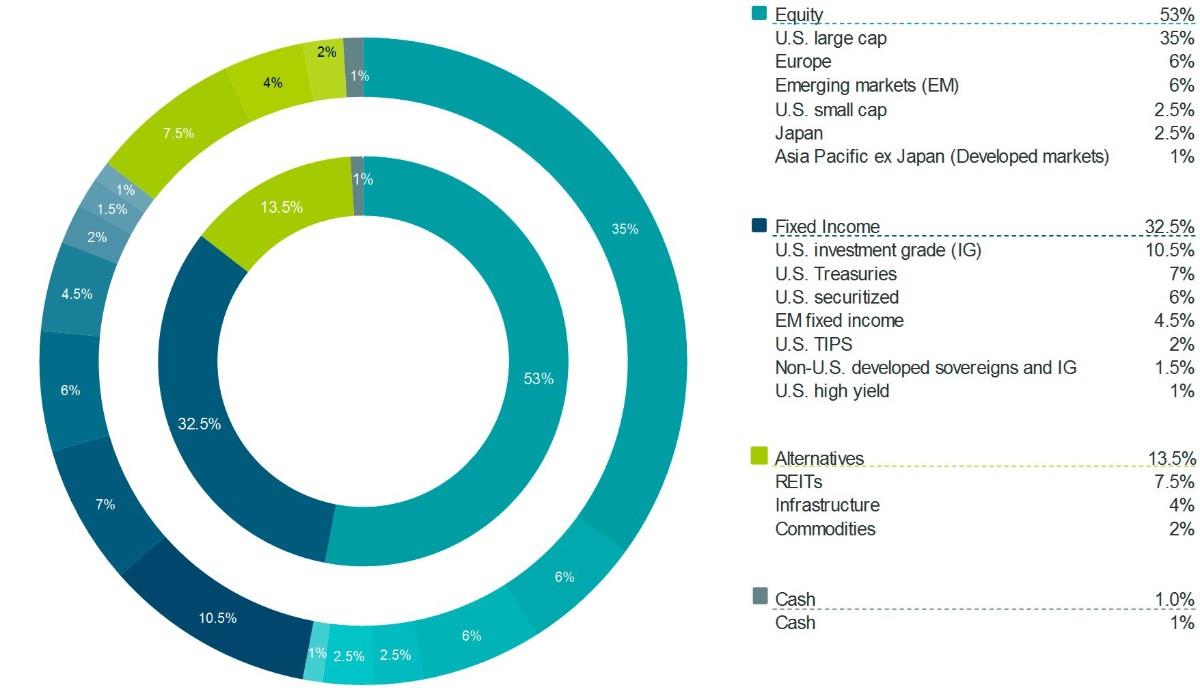 Positions are subject to change.
Source: DWS Investment Management Americas Inc. as of 7/16/19